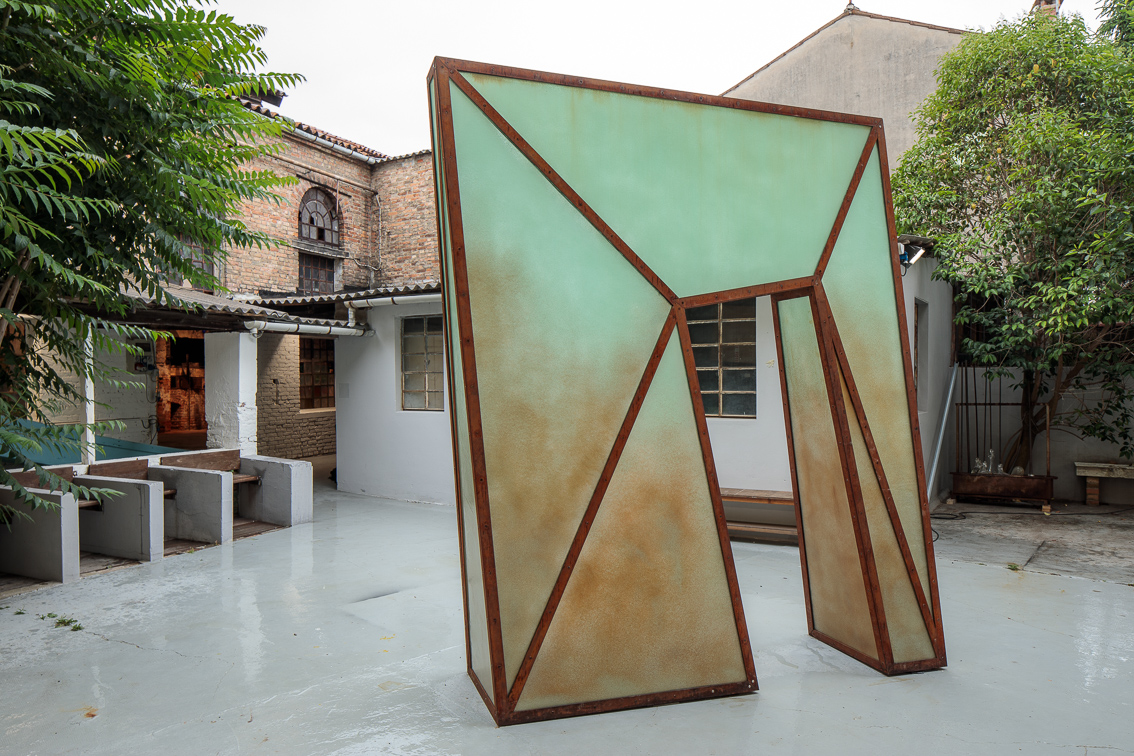 3 giugno 2022 - 27 novembre 2022
Fondazione Berengo Art Space
GLASSTRESS 2022
Chiara Dynys
In conjunction with the 59th Venice Biennale, Chiara Dynys is attending the seventh edition of GLASSTRESS – State of Mind, a project curated by Adriano Berengo dedicated to promoting new connections between contemporary art and glass since 2009. On view through November 27, 2022 at Fondazione Berengo Art Space in Murano, Venice, GLASTRESS 2022-State of Mind brings together a group of renowned contemporary artists from Europe, the United States, Latin America, Africa and China in an ambitious exhibition that explores the infinite creative possibilities of glass. Together with Chiara Dynys, 40 leading international artists will be featured, including Vanessa Beecroft, Tony Cragg, Laure Provoust, Jimmie Durham, Robert Wilson and 35 others from around the world.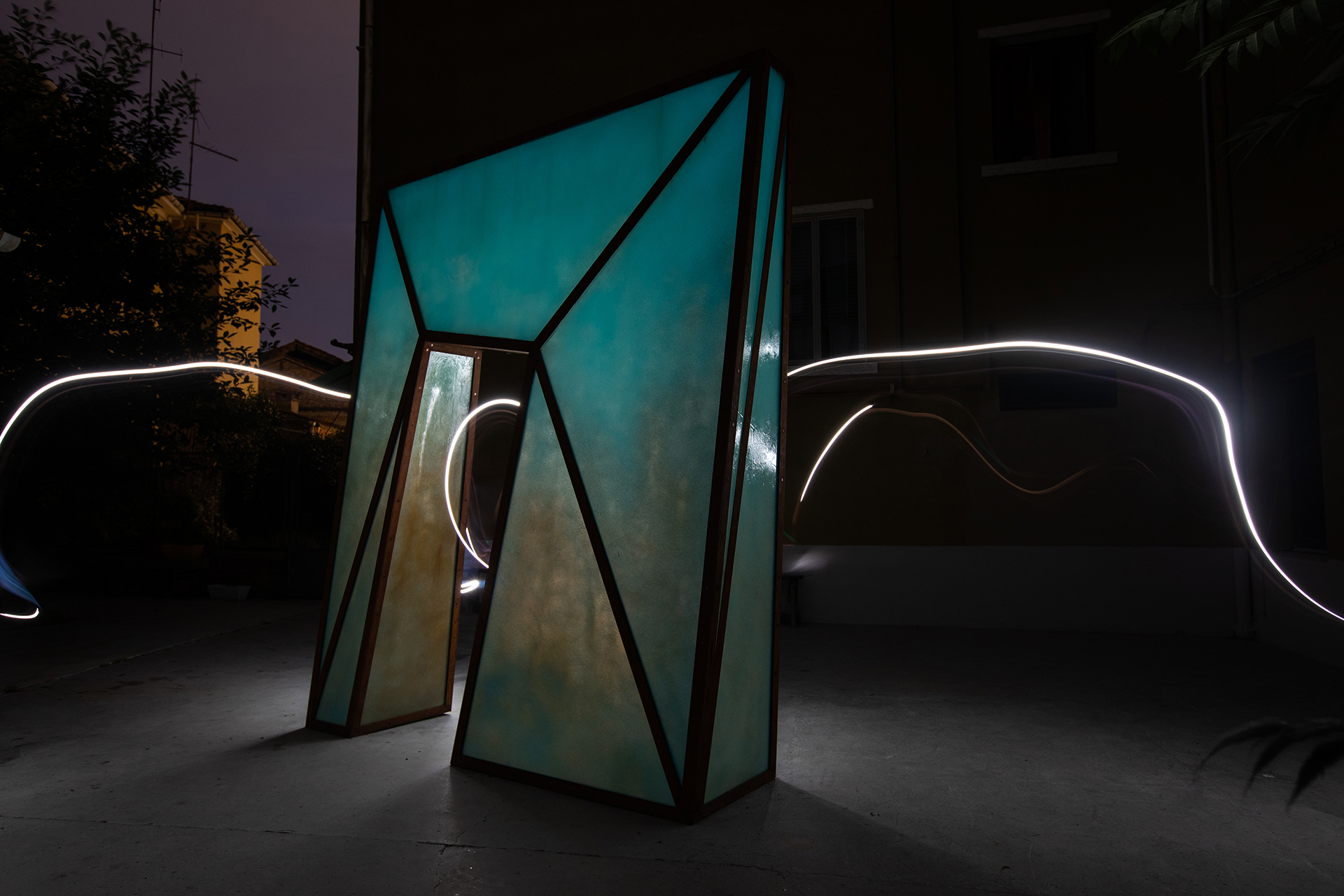 "A door is a challenge, a threshold, the courage to go beyond. A door is always a new beginning."
Chiara Dynys
La mostra
Chiara Dynys presents Giuseppe's Door, a monumental work in opalescent glass and corten steel with a strong symbolic value. Created in collaboration with Berengo studio, the work was exhibited for the first time in the exclusive venue of Villa Panza as part of the 2021 "Sudden Time" exhibition that featured Chiara Dynys, together with Sean Shanahan, within the Panza Collection. The sculpture, dedicated to Count Giuseppe Panza di Biumo, is among the artist's most significant productions, which, through the use of novel materials, experiments with the prowess of scale work. The special iridescent glass of which the work is composed has the property of "charging" with light, and releasing it in the dark, like a "phantasmal fluorescence," to use Chiara Dynys' words: an invitation to cross the "threshold" of contingent reality.
"A door is a challenge, a threshold, the courage to go beyond. A door is always a new beginning. Where does this passage lead us? Probably nowhere: it is the metaphor of crossing, of the continuous becoming of life toward the discovery of its true essence." Chiara Dynys
The suggestion of going beyond is also found in Giuseppe's Door in casting, an opalescent door-also exhibited at Fondazione Berengo Art Space and previously at Villa Panza-dematerializes and appears suspended despite being a one-piece glass sculpture. The work, which is based on the model conceived by the artist in 1993-at the time of the exhibition at the Saint-Etienne Museum-absorbs the color of the light around it, and the transparent material deliberately makes it difficult to perceive the exact shape.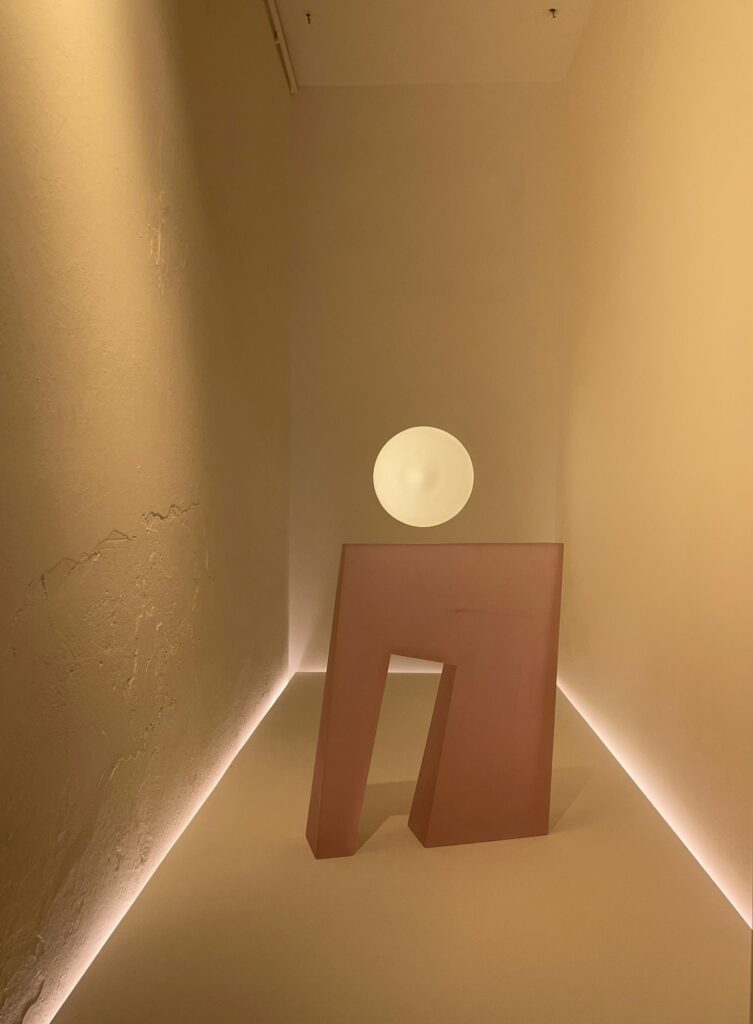 Chiara Dynys, Giuseppe's Door, 2020-21, vetro opalescente in casting, 60 x 48 x 12 cm, courtesy Berengo Studio © Francesco Allegretto
Starting with its debut in 2009 as a collateral event of the Venice Biennale, GLASSTRESS over the years the project has attracted dozens of internationally renowned artists and designers to the traditional craft of Murano glassblowing, who have tried their hand at creating evocative and innovative glass works with the support of Berengo Studio's masters. An age-old art that the Berengo Foundation, promoter of the initiative, is committed to defending, preserving and revitalizing precisely through the synergies put in place with contemporary artists.
GLASSTRESS 2022 – ARTISTS
Maria Thereza Alves (Brazil), Vanessa Beecroft (Italy), María Magdalena Campos-Pons (Cuba), Judy Chicago (United States), Chiara Dynys (Italy), eL Seed (France), Endless (Great Britain), Leandro Erlich (Argentina), Ryan Gander (Great Britain), Sibylle Peretti (Germany), Alexander Evgenievich Ponomarev (Russia), Laurent Reypens (Belgium), Enrico Ruggeri (Italy), Liam Scully (Great Britain), Paloma Varga Weisz (Germany), Osman Yousefzada (Great Britain), Monira Al Qadiri (Kuwait), Ayman Baalbaki (Lebanon), Tony Cragg (Great Britain), Jimmie Durham (United States), Jan Fabre (Belgium), Josepha Gasch-Muche (Germany), Kendell Geers (South Africa), Marya Kazoun (Lebanon/Canada), Brigitte Kowanz (Austria), Karen LaMonte (United States), Tomáš Libertíny (Slovak Republic), Massimo Lunardon (Italy), Federica Marangoni (Italy), Prune Nourry (France), Anne Peabody (United States), Jaume Plensa (Spain), Laure Prouvost (France), Thomas Schütte (Germany), Sean Scully (United States), Lino Tagliapietra (Italy), Tim Tate (United States), Koen Vanmechelen (Belgium), Erwin Wurm (Austria), Rose Wylie (Great Britain).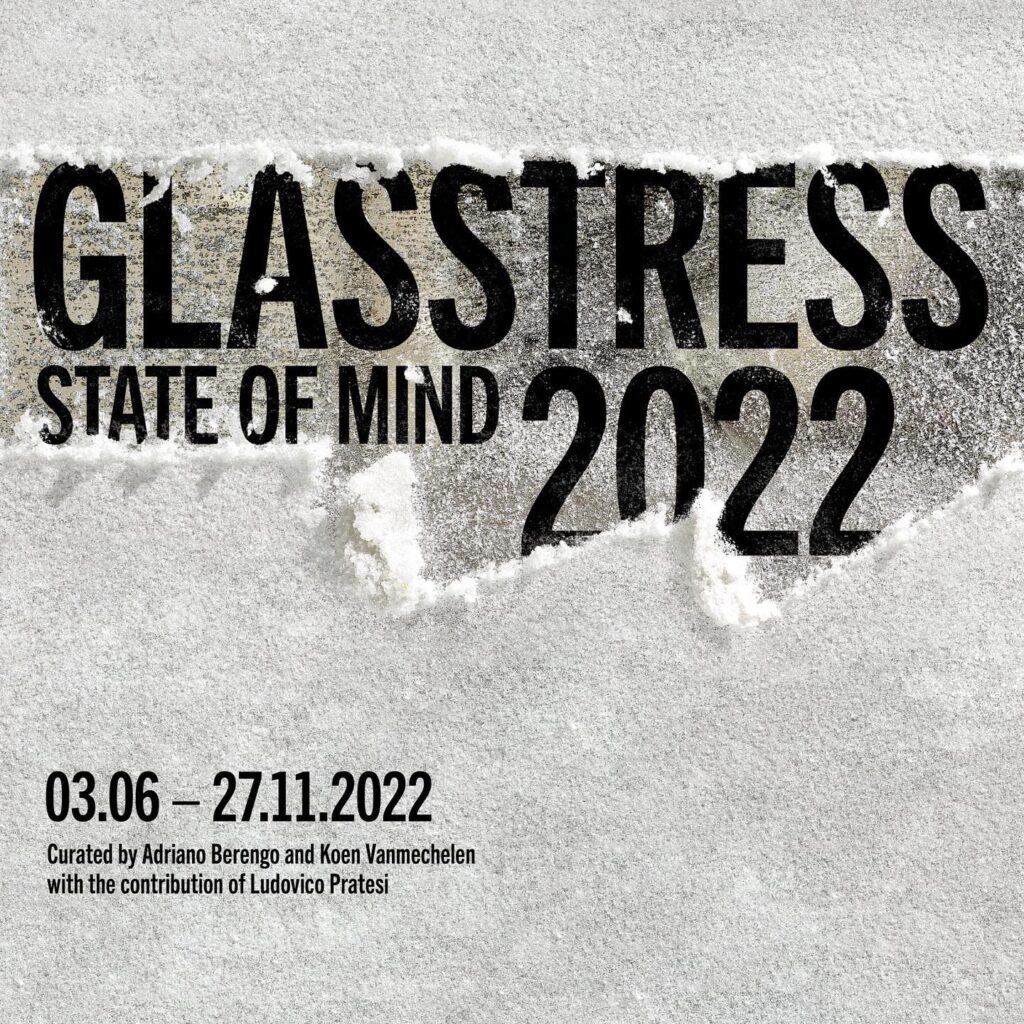 GLASSTRESS 2022 – State of Mind.
Until Nov. 27, 2022
Curated by Adriano Berengo and Koen Vanmechelen, with the contribution of Ludovico Pratesi
Fondazione Berengo Art Space, Campiello della Pescheria 4, Murano, Venice